El 18 de diciembre (de hace 41 años) nació una de nuestras actrices estadounidenses favorita, Katie Holmes, a quien no podemos olvidar en su papel en Joey Potter, en la serie Dawson's Creek, y siempre recordamos por sus looks que derrochan estilo.
¡Felices 41 Katie Holmes!
24/7, la actriz nos tiene acostumbrados a lucir los mejores looks para cualquier ocasión, y para muestra:
Pijama party
¿Cómo no amar este coordinado? El mejor para estar en casa, cómoda, pero con todo el estilo.
Smooth and relax
Camisa de mezclilla + Suéter de punto = El coordinado ideal para un fin de semana. Claro, sin descuidar un maquillaje y peinado impecable.
Glowy skin
Genevieve Herr es su makeup artist de cabecera y gracias a ella conocemos cuáles son los productos con los que logra iluminar su cara.
Classy and casual
La actriz logra lucir relajada y, en apariencia, cero producida. Sabemos que cuenta con un gran equipo de expertos que la asesoran ¡y hacen un estupendo trabajo!
Pasión en  rojo
Sentada en primera fila, en la pasarela de Fendi, Katie nos enamoró con este look
Lee: Katie Holmes y el overol setentero en denim que nos causa obsesión
El perfecto LBD
¡El LBD perfecto existe! Y Katie lo tiene. El miniclutch con cadena y las medias con gráficos le dan un giro rockero y estiloso al look.
De gala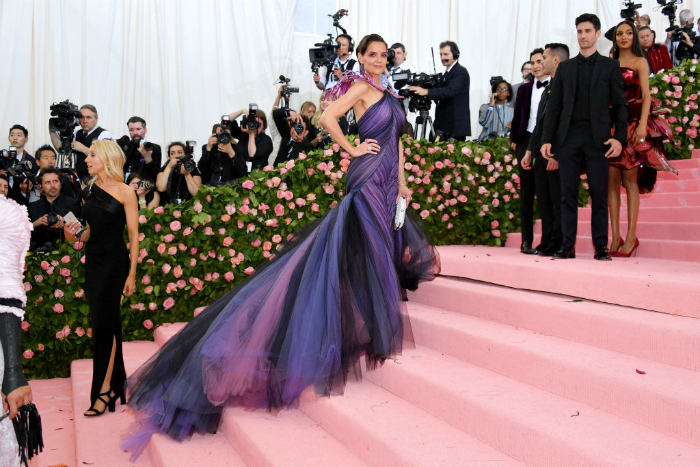 Manteniendo su línea de estilo, en la Gala del MET la vimos espectacular con este espectacular traje de Zac Posen.
Lee: 6 de los vesidos más innovadores y espectaculares de Zac Posen