No podría iniciar el año de mejor manera, Michelle Obama comienza el 2020 con el estreno del documental A Year of First en Instagram, proyecto con el que da continuidad con su activismo social en pro de la juventud de Estados Unidos.
Michelle nació el 17 de enero de 1964 en Chicago, Illinois. Fue la Primera Dama de los Estados Unidos de 2009 a 2017, pues está casada con el cuadragésimo cuarto Presidente de los Estados Unidos, Barack Obama.
Nunca siguió el lema que dice: «detrás de un gran hombre»; pues siempre se ha mantenido a un lado de Obama, trabajando. Estudio la carrera de abogada, y actualmente es una activista social y escritora.
Como parte de su activismo social, Michelle acaba de presentar una iniciativa enfocada en los jóvenes estudiantes, la serie documental:A Year of First .
«El primer año de universidad es emocionante, pero también un poco estresante. Como estudiante universitaria de primera generación, sé lo intimidante que puede ser tratar de navegar a través de un nuevo lugar y hacer nuevos amigos. Todo eso, mientras tratas de descubrir quién eres y quién quieres ser», escribió Michelle, a manera de introducción de la serie.
El proyecto documental será protagonizado por cuatro estudiantes en Estados Unidos: Robert, Linette, Regan y Haseeb, quienes radican en diferentes partes de dicho país y son distintas razas.
El objetivo es mostrar su día a día, ilustrar desde las anécdotas más cotidianas hasta compartir los retos que se les presentan. Mientras Michelle funge como presentadora del proyecto.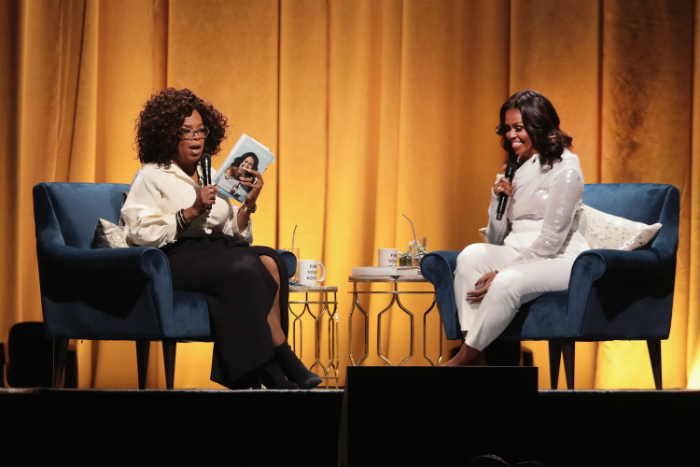 El año pasado, Michelle tuvo una exitosa agenda de actividades: publicó sus memorias (Becoming), las cuales presentó en múltiples conferencias alrededor de mundo;  fue nominada a un premio Grammy por la versión hablada de su libro, y fue elegida la mujer más admirada del año, según la empresa de análisis YouGov.